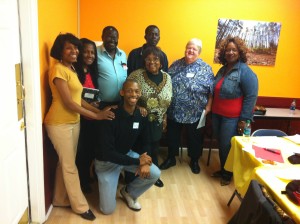 Breaking Bread:  Communities Connecting With One Another
Imagine a place where the food is plentiful & where your favorite fruits are never out of season? Imagine fruits like bananas, mangos, lemons, oranges, and pomegranates always in abundance. What if I told you this place is not here in the United States, but in another country? One where there are people of different ethnic groups who experience this daily. It is a place where stories are told and women are a force in the community. The place is Marrah Mountain located in the Darfur region of Sudan. And recently, Kuumba Storytellers of Georgia was given a taste of this experience in an informal gathering of food, fun, and conversation with our grant partners for the Sudan & African American Oral History Project.
Our meet and greet took place on Saturday, Oct. 26, 2013 in Clarkston, GA at the headquarters of the CDF. It began with everyone receiving a nametag, introducing ourselves and having a seat around the conference table. Next we had a buffet style sampling of an authentic Sudanese meal prepared for us by our partners. The dishes included: lamb, fish, okra, a yogurt based salad and a spicy vegetable wrap stuffed with rice, beans, and meat. To say the food was anything short of delicious is an understatement. And as we sat and ate, the food became our common ground for conversation.
According to Gwendolyn Napier, "We had a wonderful fellowship, and had an opportunity to eat a wonderful Sudanese meal. The foods were delicious."
Laverne Amponsah commented, "It was truly a treat to taste the food and share stories. For example, the okra dish from Sudan was very similar to the okra dishes I grew up eating in Savannah, Georgia."
Janice Butt stated, "The food helped us relate to each other. It gave us something to talk about. We learned that sorghum is an important staple, rather than wheat or rice. I loved the description of the beauty and plenty of Nuba Mountain where every type of food grew."
Once everyone had their fill of food and drink, Emmanuel Solomon, who served as facilitator broke us into four groups so that we could get better acquainted with one another. In our breakout groups, we were instructed to find five similarities and one unique trait about each other. My group consisted of Gwendolyn Napier, Ezzeldin, Luca, and Rothman. Describing ourselves as cheerful and talkative, we also shared the same interests in science fiction movies and in comedians such as Bill Cosby, Cedric the Entertainer, and Martin Lawrence. Another common interest among us was rap music. And to show off our uniqueness, we collaborated to compose the following rap about our names:
We are group number one, we like to have fun, so listen up now as we drop our names son!
My name is Chetter & I am sharp like the cheese, when I kiss the girls, I make them all sneeze!
My name is Gwen, I like to win, clap three times and I will say it again!
Ring-a-ding ding they call me Ezzeldin, even Samsung and IPhone have customized my ring!
My name is Luca, now don't be a hater, I'm like the disciple and will elevate your greater!
They call me Rothman, the businessman; I make good money because I have a plan!
So, as you can see our group "wrapped up" our assignment with a bit of comedy and creativity while inspiring some new rap enthusiasts!
After all the breakout groups had shared their experiences, we were given a brief history about the traditions and culture of the three regions of the Sudan. We were fortunate to have Rothman from the Nuba Mountains, Luca from South Sudan, and Basmat from Darfur who gave detailed accounts of their respective regions. Rothman and Luca shared their stories of courtship, dowry's, and arranged marriages while Basmat engaged us with the beauty of Darfur and the role of women in her community. And, from our facilitator Emmanuel Solomon we were reminded of the importance of storytelling. Since a formal education is not available storytelling is a way to have education passed down from one generation to the next.
That being said, this afternoon of food and conversation is one which can be woven into a tale or two and retold by any who were fortunate enough to be part of it. We discovered that despite being separated by thousands of miles of land and water, that our interests in music, the arts, food, and travel were strikingly similar if not the same. Perhaps the afternoon is best summed up by Kuumba Vice President Ernestine Brown, "It wasn't intended to be, but for me, it was a meeting of the souls. It was a cultural, spiritual experience."
Chetter Galloway – Kuumba Treasurer (2012 – 2013)