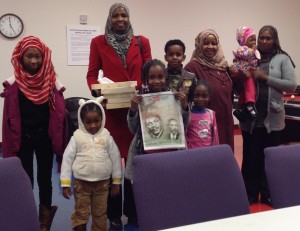 Rubbing his belly to make a point, Ibrahim, a Clarkston middle school student, retold a story his grandmother told him. He told the story with great ease and some humor, all in Arabic, to a receptive audience of parents, youth, and storytellers. The storytelling event, held at the Clarkston First Baptist Church, January 18, 2014, was sponsored by the Darfur Communities Network, in partnership with Kuumba Storytellers of Georgia, United Sudan and South Sudan Communities Association (USASSCA), and CDF-A Collective Action Initiative. Translation was provided by Basmet Ahmed organizer of the event, and Emmanuel Solomon, president, USASSCA.
One of the fathers shared a story that he was told as a child. As he acted out the story, complete with cries of "help" in Arabic, the audience recognized it as a story similar to "The Boy who Called Wolf." This story was called "Lies and Consequences" and in this version, the wolf is replaced by a tiger.
Emmanuel shared a story in English (a story he has also written in Dinka) about a cat and a bell, a story with no ending. The story resulted in a discussion about leadership and strategy. One of the mothers told two stories, one about a cat and mice and the tricks the cat played on the mice. The second was an "ode" to Sudan. She has many more stories to share, and another meeting is planned to hear and record her stories.
Gwen Napier, a member of Kuumba and a storyteller, brought drums that she had made out of wood and showed the youth how to use tape over the wood to make a drum like sound. Gwen likes to use "props" when she tells stories and encouraged the storytellers to creatively use drums, puppets, costumes, and other props to enhance their stories.
The Sudanese children stories collected through the Brimstone Story Telling Project will be written in Arabic, Dinka, and English. This spring and summer, the stories will be shared with the Clarkston community by the Sudanese storytellers.
The goal of the Brimstone award to the Kuumba Storytellers of Georgia is to collect, write, and disseminate oral children's stories from Sudan.
For more information: Roberta Malavenda, Roberta@cdfaction.org